We Came, We Saw, We Crushed. Meow.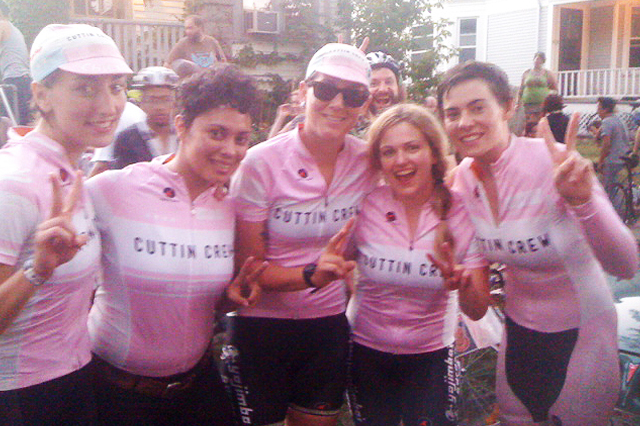 It starts in 2010. The guys of the Cuttin Crew rolled into Riverwest for their 24 hour bike race, and charmed the pants off of every volunteer, checkpoint worker, community member, and fellow racer while simultaneously biking like madmen and taking home the W. We had a lot to live up to this year, and a big goal of our own. We wanted to see an all-female team make it to the podium. We wanted to prove that we didn't need a separate category, and that we were just as capable to throw down with the guys. This would also be our first race all together as a team: Jamie, Christina, Marie, Maria, and myself.
We knew we had to CRUSH and keep CRUSHIN until we could CRUSH no more. Things started off steady and as results started to pour in we found ourselves in a good place. But we had to maintain fast laps and not waste too much time at checkpoints. Christina pulled some speedy laps in the late night shifts and then Marie was sent out around 4am to close out the night. Shortly after we get news that Marie has been in an accident. A cat and a bicycle both met their end, and Marie was fortunate to escape with a sprained wrist. Now we are down to 4 riders, with 14 hours to go.
Highlights from the next 13 hours:
• Glitter ramp after Checkpoint 1 created by Team Fun Bags= Mad air
• Tuxedo Thunder proving they're not just stylish, well dressed hansom types, but well prepared, thoughtful friends, bringing a supply of nutrition and snax that could have fed 30 Crushin' Crews
• This
• Checkpoint two: Robert (the best Checkpoint worker out there who cheered us on the whole way and always offered a shot of whiskey)
• Alex who's yard we completely overtook with 3 tents and countless water bottles and snacks. He was SO TOTALLY COOL
Laps and bonus points kept trickling in. At one point we were in 1st place. Pretty remarkable since we were four people and the other top competition all had 6 people per team. I'm going to brag here, because I am so proud. I love my teammates and I love racing with them. In the last hour of the race we head over to the start/finish and started doing HOT LAPS, alternating riders every lap, hammering hard during the lap.
It was now 6:30PM. In thirty minutes the race would be over. We want that podium spot. If I can't get back to the start/finish by 6:45PM, then we will not be granted another lap which we desperately need. I'm doing the math and finding this an impossible feat. The entire race our best lap time was 15:16, and at this point we've been racing for nearly 24 hours.
I head out, hoping for the best. I pull in to the start/finish, having no idea what time it is, screaming towards the wonderful and charming race coordinator Mike McGarry "ONE MORE LAP?! ONE MORE??" He responds favorably. It was 6:44PM. Lap time: 14:47. I hand off the manifest, everyone is cheering, and Christina bolts out for the last lap. She has to be back by 7PM or else the lap doesn't count.
It is now 6:59PM. McGarry starts the countdown.. 10..9..8.. No Christina. ..7..6.. No Christina. ..5..
AND THERE SHE IS, WITH 3 SECONDS TO SPARE: 23:59:57.
To quote Maria Larkin:
"Seriously when Teeners came around that corner, I almost had kittens. Marie and I were screaming and jumping as she went past and they were counting down. When I was running back to clap her on the back people just started putting up their hands and it was like Hi-fiving a million angels!"
2nd place for Team B, first ladies ever on the podium, 3rd place OVERALL. We CRUSHED teams that had 6 people when we were only 4. Smiles for miles. Thanks to Mike and Max for all the support, and the Riverwest community for welcoming us and cheering us on all through the night.