10 Notes for Relay Cross
By Maria
1. Think of elaborate and varied team names, some examples include:
Team Awesomesauce CHET STEADMAN'S MUSTACHE Belgian Knauffles Midpack Hipster
In the future may everyone be named after Lumpy Space Princesses and Kinky Llamettes.
2. Bring appropriate attire. For increased safety, some participants wear bright clothing to increase visibility while racing. Elaborate costumes can sometime distract the competition, and help them to underestimate how fast you are. No-one could be fast if they're wearing fake boobs or a penguin costume right? And the Hamburgler couldn't possibly have been training all season...could he?
(photo credit: Burnham Racing)
3. Bring your pain face, wear it with pride, then make a .gif of it and release it to the Internet.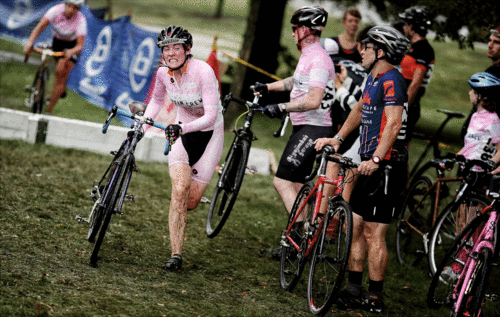 (gif by maria/photo credit: Ed white)
4. Watch the juniors race. Cheer them on. You might just see a display of grit and determination that you can apply to your own racing career.
(photo credit: Ed White)
5. Ensure full contact in the exchange, as missed high-fives can lead to disqualification.
(photo credit: Ed White)
6. Practice barriers again and again until you can appear graceful, elegant and demure.
(photo credit: Burnham Racing)
7. Choose a lightly coloured kit to accentuate the muddy aspect of cross. Those mud stains are tough to get out, but luckily people will see them and think 's/he must be a cross badass' and not 'what a filthy/dirty bike messenger type'
(photo credit: daphinator)
8. If someone should have amazing custom Levi's jackets made for you with your team patch sewed on you should definitely wear them, as it can get a little chilly when spectating, but you can also let people know how punk and cool your team is...
(photo credit: daphinator)
9. Get photographed by one of the awesome photographers, such as Ed White, that line the course. You can then use these photos as a facebook profile picture (credited of course) and everyone can see how you're going fast/looking graceful/falling on your face for the whole season.
10. Show up. Race. Spectate. Cheer. Cowbell. Get way too excited. Heckle (not too hard). WIN!
Thanks to everyone who helped organise and run the whole day. This is one of the best races of the whole season!
Oh ya, and Teeners and Nico got 4th in the Co-Ed
(photo credit: daphinator)